FLU SHOTS
Seniors: We have begun calling seniors registered to a family doctor at UHMC!  We are starting with the eldest patients and will call everyone 65+ to offer an appointment. 
Please be patient and await our call.
Other registered patients:
Expect an update posted here with appointment booking instructions later this week. For updates, please check back here or listen to our outgoing voicemail message periodically.  
_______________________________________________
** Please CALL or EMAIL the clinic with ANY concerns * 
We are here to help you!
Note: the clinic doors are locked (as we are seeing patients in person only if deemed medically necessary by the doctor) 
905-884-7711 or admin@ultimatehealthmedical.ca
** Re: any reference to walk-in services are not currently valid
due to COVID-19 pandemic**
COVID-19 PANDEMIC
Dear patients, friends and family:
The next two weeks (or more) is key for Canada to have a chance to be different than Italy, Iran, China and other highly affected countries.  Italy is suffering from an almost 10% percent mortality rate from those infected due to a crippled health care system from covid-19.  Imagine 500+ deaths per day.  Isolate. Stay at home. Social distance.  Go for a walk but don't let your kids go on the playground and do it alone (just your family). No play dates.  No frivolous shopping.  Wash your hands and don't touch your face.  Otherwise stay home and send out only one person for essentials (groceries and pharmacy) or better yet order online.
There will be a mass influx of snowbirds and March breakers coming home now.  This is our next challenge.  Some of these people are the ones who left despite warnings to avoid travel a week ago and may be yet again less disciplined to respect the severity of this situation upon their return.  We are doubling cases every 3-4 days (as expected) without them and now they are arriving, things will likely get worse.  Remind them to self quarantine and have a friend or family member leave food for them at their door.
We all have a responsibility to keep each other safe.
Your Doctors from the UHMC Medical team,
Dr. B. Aw        Dr. S. El Seisi                        Dr. M. Javanmard
Dr. E Lam       Dr. S. Kamalanathan         & your Admin Team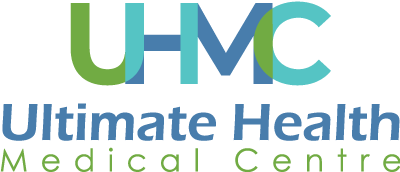 We Are Committed to Your Health
General Office hours: Mon-Fri 8:30am-8:00pm
Any changes or closures are mentioned in our outgoing voicemail message




Experienced Doctors
Ultimate Health Medical Centre is home to 5 family physicians ready to help you and your family reach Ultimate Health goals.
Professional & Friendly Staff
The Ultimate Health Medical Centre team ensures best practice guidelines, accreditation standards and regulated professional standards are being followed and met.  
Walk-In
Walk-in on Saturday mornings open only to patients rostered to our group of physicians.
Flexible appointments and urgent care. 
Or call — (905) 884-7711
If person can not find a suitable appointment, especially if matter is of an urgent nature please call in.
Better Health Care is Our Mission
General Office hours:
Mon-Fri 8:30am-8:00pm