COVID-19 VACCINE
*Covid vaccine is NOT currently available at the clinic*
*At this time, family Physicians have no ability to fast-track vaccination for patients*
Please see the following resources for up to date Covid Vaccine appointment eligibility information and booking:
https://covid-19.ontario.ca/vaccine-locations
_________________________________________________________
Have vaccine related questions?, please check these links and the Q&A below:
https://www.ontariofamilyphysicians.ca/tools-resources/covid-19-resources/covid-clinic-message-az-safety.pdf
https://www.nejm.org/covid-vaccine/faq
https://www.ontariofamilyphysicians.ca/tools-resources/covid-19-resources/covid-19-vaccines/covid-vax-special-populations.pdf
https://covid19-sciencetable.ca/sciencebrief/vaccine-induced-prothrombotic-immune-thrombocytopenia-vipit-following-astrazeneca-covid-19-vaccination/
AstraZeneca COVID 19 Vaccine Statement 
COVID 19 vaccine and Thrombosis FAQs
Vaccine shopping:  Don't do it.  This is a public health emergency and a race against time.  Take the vaccine that is offered to you when your priority group comes up. The Astra Zeneca vaccine has been removed as a first dose option in Canada.
Is the Astra Zeneca vaccine not as good as the Pfizer/Moderna vaccine? Data from the preliminary studies show almost 100% efficacy towards saving lives and keeping people out of hospital with all 3 vaccines.
Is the Astra Zeneca vaccine not as effective as the Pfizer/Moderna vaccines against the variants of concern?  This is a moving target so this advice is based on the best information we have at this time (March 13, 2021).  Given the predominant variant of concern is the UK strain in Ontario, all 3 vaccines still offer good protection against this variant.  The South African and Brazilian (data pending) variants reduce the efficacy of all 3 vaccines with the Astra Zeneca vaccine most affected; however, these variants are not the predominant strains that we are currently seeing here in Ontario. The United Kingdom has used Pfizer/Moderna and Astra Zeneca (Oxford) readily and have dramatically reduced their cases due to an aggressive vaccine campaign amongst circulating variants.
Is a booster vaccine after the primary series likely?  The reality is like the flu shot a booster shot for everyone will be given again after your primary series to account for any circulating variants down the road, so roll up your sleeves and get the first vaccine offered to you to deal with the «NOW» as «later» will come into play for all regardless.
Is one vaccine safer than the others?  Over 500 million doses and counting have been given in Canada, USA, UK, and Europe to date and these countries promote an open side effect reporting and monitoring system for your safety. The safety profile on all three vaccines have not triggered any common safety concerns to date.  The Astra Zeneca vaccine has been associated with a rare risk of blood clots at 1/60 000, subsequently in Canada this vaccine has been removed as a first dose option.  Your risk of getting a blood clot after being infected with Covid is much higher than this rare risk. Please refer to the links from Thrombosis Canada listed above for more information.   Please check for allergies on the Covid vaccine Ontario websites and if immunocompromised on medications or pregnant, make sure to review the timing or permissibility of the vaccine with your healthcare provider.
After I am vaccinated does life go back to normal?  Yes and no.  Maintain masking and usual distancing/sanitation measures as before as this will keep new variants from propagating in our communities. However, by reducing hospitalization and deaths via mass vaccination, the economy and health care can recover allowing things to open up once again.
We all have a responsibility to keep each other safe.
Your Doctors from the UHMC Medical team,
Dr. B. Aw        Dr. S. El Seisi                        Dr. M. Javanmard
Dr. E Lam       Dr. S. Kamalanathan         & your Admin Team
If you have further questions AFTER reading the above resources, please let us know!
Please continue to check back here for updates!
** Please CALL or EMAIL the clinic with ANY concerns **
We are here to help you!
Note: the clinic doors are locked (as we are seeing patients in person
only if deemed medically necessary by the doctors
          905-884-7711 or admin@ultimatehealthmedical.ca
** Re: any reference to walk-in services are not currently valid 
due to COVID-19 pandemic**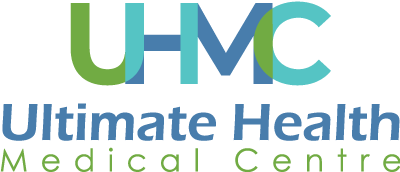 We Are Committed to Your Health
General Office hours: Mon-Fri 8:30am-8:00pm
Any changes or closures are mentioned in our outgoing voicemail message




Experienced Doctors
Ultimate Health Medical Centre is home to 5 family physicians ready to help you and your family reach Ultimate Health goals.
Professional & Friendly Staff
The Ultimate Health Medical Centre team ensures best practice guidelines, accreditation standards and regulated professional standards are being followed and met.  
Walk-In
Walk-in on Saturday mornings open only to patients rostered to our group of physicians.
Flexible appointments and urgent care. 
Or call — (905) 884-7711
If person can not find a suitable appointment, especially if matter is of an urgent nature please call in.
Better Health Care is Our Mission
General Office hours:
Mon-Fri 8:30am-8:00pm